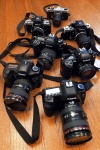 Copy Rights

For the record, all photographs on this site are nominally protected by copyright law. Should you wish to copy any of these photographs I would be most flattered, and I would be pleased to have them used for personal, educational, or other non-profit purposes. I ask, however, that they not be used for commercial purposes. I would hate to think that my vanity site is affecting the livelihood of some deserving professional. Note that there are no model releases on any of the images. If you do use them I would ask that you :
1. Use them tastefully.
2. Let me know by email that you are going to use them.
3. Give me credit for the photo ("photo: billhocker.com") with a link to my site where appropriate.

Viewing and Printing the Photos

The appearance of web photos is quite dependent on the characteristics and location of the monitor used, and you may wish to look at my monitor comparator to see how closely your monitor matches mine. Images should be viewed at the millions-of-colors monitor setting. At thousands-of-colors posterized stepping may occur in evenly graded areas (such as clear skies) and in very dark areas.
Printing the photos in their full size (72dpi) will produce a coarse "pixelized" image. Subject to the abilities of your printer, good quality postcard-sized prints may be made by downloading the images and printing at a 50% (or 30%) reduction.


Autobiography

With architecture school finished and the draft board at my heels, I joined the Peace Corps in 1970. From that experience, both travel and photography became important creative interests that would punctuate 12 more years of frustration in the architectural profession. Finally realizing the error of my ways I chose passion over respectability and began ...(photography is really no way to make a living, is it?) ...Wm Hocker Toy Soldiers in 1984. Interest in photography, dormant during the early toy soldier era, has now been rekindled thanks to the development of an accessible audience via the internet.
The Travels & Photographs

These albums now encompass over 40 years of travels. Each photo includes the year it was taken: I confess that dating photos is a bit of an obsession. It is frustrating to view the work of others, in whatever field of interest, without being able to place it in a historical context. With the exception of 2 years spent in Tunisia and 2 summers spent on Sardinian archeology, the photographs have been taken on 1 and 2 week tourist vacations. I am a bit more interested in photography than in traveling, and often less is retained from the trips in the way of factual information than in imagery. Should you wish to help me out with locations or names where they are lacking I would be much obliged.

Equipment & Media

Film: Photographs taken before 1973 (Tunisia and some European shots) were made with a Pentax Spotmatic with a 35mm, 105mm and 150mm lenses. With only a couple of exceptions the film used was Ektachrome, 64 ASA. From 1973 to 2001 photographs have been taken with 2 Nikon F2's using principally 24, 105 and 200mm lenses. Rarely used, but still in the bag, have been a 35mmPC and a 55mm Micro. At one point, at the height of equipment lust, a 16mm fisheye and a 500mm reflex were also included. In 1994 the 35, 55, and 105 were supplanted by a 35-105 zoom. In 2001, finding manual focusing increasingly difficult, I switched to 2 F100's, a 20mm, a 28-105 and a lightweight 80-200mm. All photos taken with the Nikons have been on Kodachrome, 25 ASA until 1989 and 64 ASA thereafter. No filters other than UV were used and all photos were taken using available light. Some pictures close to home were taken on a tripod, but most all shots beyond the California border are hand-held (or propped on the camera bag).

Digital: In 2005, going to Peru, I took along a Sony 7MP P200. I loved the camera and the ease of taking photos in places where I normally wouldn't bother: low light, aerial shots, museum shots, under fluorescent lighting, during performances. I loved the fact that it was silent, had great dof, that I could view shots taken, shoot multiples without waste, show images to friends and subjects, put the camera in my pocket. I was not as happy when I returned, however. The 1200 slides were much easier to archive than 700 digital files (and these were relatively small files). And where will those 700 files be in 20 or 30 years? Even now I have a hard time finding them on my computer. Is it copy 1 or 2 or 3 that is the original file? Or does original file even exist any more? And who owns the files - I or the hardware and software companies that must be forever paid to keep them accessible? There is still something comforting about the physicalness of film. [Subsequent note: within 3 months of their creation all 700 files have disappeared in a catastrophic hard disk failure. Such is the ephemeral nature of the digital world.]

In 2006, with a trip to India looming and archive and backup strategies in place, the time came to go completely digital. I purchased a Nikon D200 with an 18-200mm lens. My one regret was is that the beautiful F100's, barely 6 years old, lay neglected in the closet - yet going back to film is unthinkable.

In 2008 the unaffordable, unportable Nikon D3 finally arrived to conceed the victory of the full frame sensor for serious work. I went to the dark side and bought an affordable Canon 5D and a brace of f4 lenses for a trip to Jordan and Syria. Unfortunately, the 5D is a Neandrathal to work with, a great sensor crippled by poor control and software decisions. I bracket every exposure and constantly monitor focus and iso setting just as in the old all-manual days, but the quality of the images, when the settings are right and even in the worst lighting conditions, are stunning.

In 2010 the 5D was upgraded to a 5DII for Cambodia. (Nikon still doesn't have an equivalent IQ/weight/cost ratio.) The MkII is an easier camera to use (no more fiddling with the top buttons!) but bracketing and setting-awareness are still necessary as exposure and auto- algorithms remain poor. It has been a big disappointment also in its image quality. More noise than the 5D, occuring in very nasty banding or burlap patterns, and much more splotchy color noise (more even than the 5D! The Nikon had none of this color noise). Any gain in resolution is lost in the additional noise.

In 2014 I bought a Canon 6D. Lighter than the 5D's with most buttons under the right thumb (where they should be on all cameras), and much better high ISO noise (without banding!) and most important (since I have become the performance photographer for Mui's chorus), very quiet.

In their web versions, I confess to liking the D200 (India) photos better than the Canon photos - more 3 dimensional, cleaner colors. Is it the Indian light, more depth of field in the small sensor, Nikon's better software acumen, or just my imagination?

All photos shot with the DSLR's are large JPEG's. Life is too short for raw files.

Industrials 3 presents the first album of photos not taken in 35mm format. The camera is an Arca Swiss with Schneider 90, 135 and 210mm lenses. The Film is Ektachrome, 64 ASA. Sadly there is little difference in the quality of 35mm and 4x5 photos when viewed at similar sizes on the internet - it is impossible to convey the awe-inspiring tonality and detail of a color transparency equivalent in area to ten 35mm slides. For a while that difference justified the enormous effort and cost required to take a shot.

Digital Preparation

Film: All of the 35mm scans for this site were done on a flare-prone Nikon LS2000 (and more recently a somewhat less flare-prone LS4000) slide scanner . 4x5 scans were done on an Epson 2450 flatbed with integral transparency unit.

Digital files: The digital files were manipulated on a Macintosh using Photoshop. Manipulating is now done at 3400x5100 pixels (scans), 1200x1500 pixels (4x5's) or camera JPEG (dslr) then reduced, in the past to a size of 512x768 pixels, and now to 1000x1500 pixels. There is a big difference between earlier and later efforts because of improvements in equipment and technique over time, and I slowly continue to upgrade old images.
Publication

I have been pleased to have some of my photos used in Blue Guide publications over the last few years, especially pleased over the incorporation of numerous photos in Sites of Antiquity by Charles Freeman including the cover!

The Site

This site has been up since 1999. After years of html coding, a frames/html implementation, a completely javascript implimentation and flirtation with a flash implimentation, I have now constructed the website using the php scripting language (hand-coded) with album and image data stored in a mysql database.